Our Stylists
We would like to introduce you to the folks that work at New Florence Salon and give you a feeling for each of our stylists as individuals. Collectively we have trained with the likes of Bumble and Bumble, Vidal Sassoon, Toni and Guy, L'Oreal Professionelle, Goldwell, Wella and Davines. As a salon we strive to continue our education through classes and trainings on the latest products, styles and techniques. We aim to be great hairdressers, good friends and to provide a warm and welcoming environment for people to enjoy. Be careful...you may not want to leave!
He is from California. He has been doing hair since 2002 professionally and since 1990 as an amateur. Jesse likes trying out different organizational systems with groups of similar things i.e books or records, cooking for people, and putting on sun warmed socks after getting out of the ocean. He does not like vegetables cut into random sizes, impossible to remove stickers or #hashtags. Jesse's must have hair product is R+Co's Badlands Dry Shampoo Paste to keep his hair lifted and wild, as he likes it. Jesse loves the free form nature of doing hair. It satisfies his need for artistic expression and the discipline of longing for control and structure. He enjoys being present with one person and listening. In Jesse's spare time you can find him exploring new worlds, lives and puzzles in the digital art form known as video games. Nerd Alert!
She is from Preston, Idaho. She has been doing hair since 2005. Karen likes you, you and you. She does not like things in packages, the Red Hot Chili Peppers or snakes. Karen's must have hair product is dry shampoo. Karen loves making a connection with people and helping them feel great about their hair. In Karen's spare time you can find her collecting spores, mold, and fungus...just kidding, right now you can find her hanging with her kids.
She is from Pocatello, Idaho. She has been doing hair since 1983. Wendy likes dogs, dancing and being crafty. Wendy does not like seafood, people talking on speakerphone in public or cold weather. Wendy's must have hair product is R+Co's Cactus Shampoo because it makes her feel like she has more than 4 hairs on her head and R+Co's Aircraft for her wavy texture. Wendy loves the long term relationships that have been built with her clients and witnessing the progressions of life. In Wendy's spare time you can find her belly dancing both locally and globally.
For the most part she is from California. She has been doing hair since 2001. Cally likes warm summer nights, travelling the world, and walking whenever possible. She does not like really, really, really long hair, a lack of empathy, or when people laugh without making sound. Cally's must have hair product is anything that adds texture: hairspray, mousse, salt spray, or dry shampoo. Cally loves hair because it is the only true accessory that you can't really take off. It better look good 'cause it's still there when you're naked. Cally also loves people so connecting with humans from all walks of life and mixing the endless creative opportunities to fashion their hair is a perfect fit. In Cally's spare time you can find her searching for fun in nature, with art, her two kids, or possibly drinking a beer and watching her beloved Golden State Warriors.
She is from San Clemente, California. She has been doing hair since 2003. Jennifer likes vans, cheese plates and thrifting. She does not like cheap fabrics, dirty mustache dogs, or night shades. Jennifer's must have hair product is thickening spray. Jennifer loves the razor, short hair styles, and fixing bad haircuts. She feels well rounded and not afraid of any hair that walks in the door. In Jennifer's spare time you can find her cruising around in a van and enjoying the great outdoors.
this is Anjela Norsworthy
She is from Hayward, California. Anjela has been doing hair since 2003. Anjela likes parallel parking, mayonnaise and a good deal. Anjela does not like public speaking, whining, or feeling cold. Anjela's must have hair products is R+Co's Spiritualized for that 2nd and 3rd day hair. Anjela loves the variety in her day; different styles on different heads of hair, while talking with different people. In Anjela's spare time she prefers to be outside in the sunshine. Or better yet; outside in the sunshine and out of town. When she is indoors, you can find her in her kitchen cooking.
She is from El Sobrante, California. She has been doing hair since 1999. Polly likes black licorice, estate sales and lichen growing on trees. Polly does not like fresh tomatoes, a bird in hand or stuffed people i.e. Mickey Mouse. Polly's must have hair product is R+Co's High Dive Moisture and Shine Cream and all dry shampoo. Polly loves the texture and movement of hair. She feels that it is like making a sculpture out of millions of moving pieces. She also treasures the relationships she has with her clients. In Polly's spare time you can find her roaming the Oakland hills with her dogs.
She is from California. She has been bootlegging hair since she can remember but went professional in 2005. Shimeko likes confidence, outsider art and Philosophy. She does not like unrealistic beauty standards, short sightedness and prisons. Shimeko's must have hair tool is her YS Park Diffuser. It is pretty much the best thing that ever happened for curly, wavy and/or frizzy hair. Shimeko loves doing hair because it is like a magical portal where she gets to tell people, "Put down your weapons! What you have is beautiful. You just have to stop fighting it!" For her, being a hairdresser is like being a mirror that helps find the "you" that has been hiding behind hairstyles meant for someone else. In Shimeko's spare time you can find her working with her hands in some capacity or with her nose in a book. She is a real renaissance woman.
This is Megan Godino. She is from Colorado and California. She has been doing hair for forever but professionally since 1998. Megan likes swimming holes, dark chocolate with orange and being in the flow state. She does not like uncomfortable shoes, self righteousness or cold wind. Megan's must have hair product is Rake from Reverie to help control "poofy" hair. Megan loves doing hair because she believes that adorning people with good hair allows her to sculpt and paint all day while connecting personally and physically with others. She loves razor cutting. She loves helping people look and feel great. In Megan's free time you can find her making art, hiking, studying plants and insects with a magnifying glass and hanging with her family.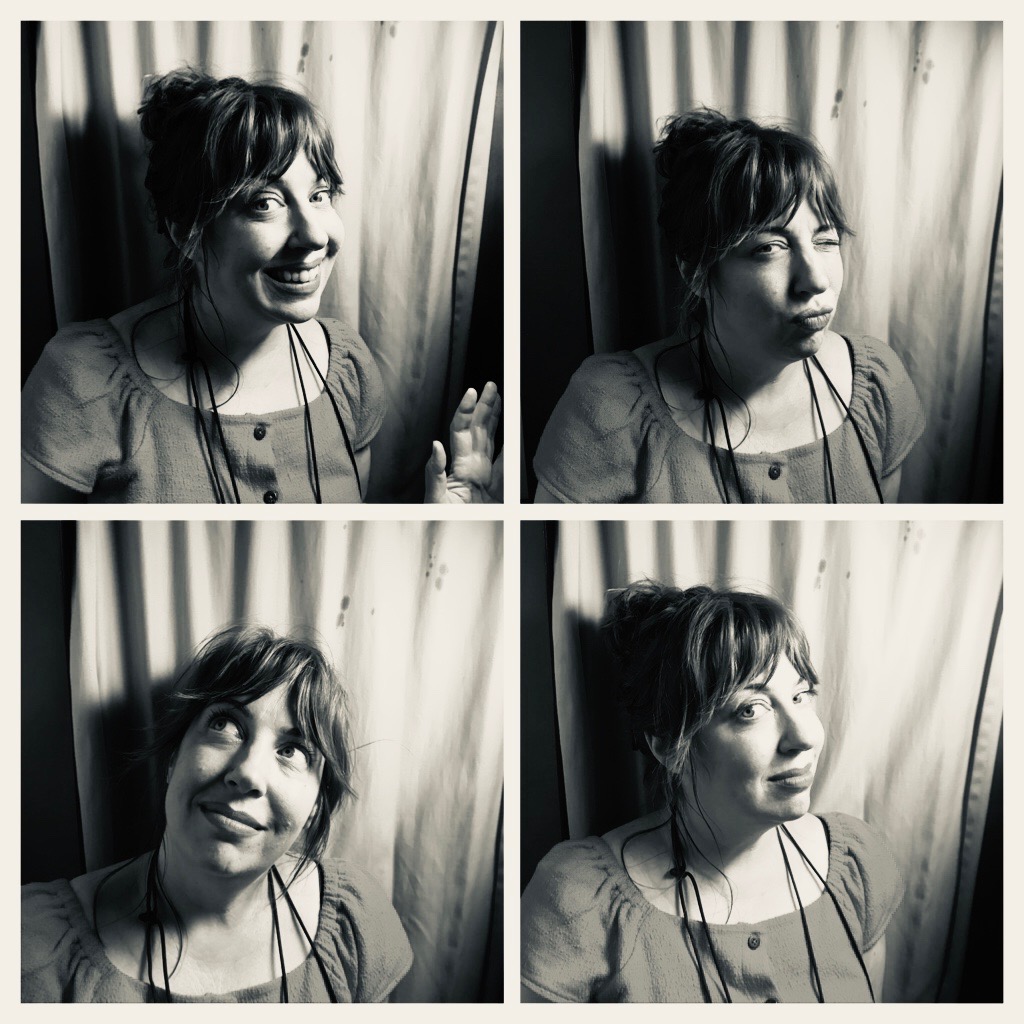 This is Kate Szelap. She is originally from Detroit, MI but been in the bay for 22 years. She has been doing hair for 10 years. Kate likes birds, trivia and pudding. She does not like celery, balloons or oversized insects. Kate's must have hair product is Vegetal Texture Spray from Rene Furterer and ALL dry shampoo. Kates loves doing hair because she's into creating shapes on different people to suit their personalities, style and hair texture. She also loves the cool people she gets to hang out with for an hour or so. In Kate's free time you can find her cooking, reading, gardening and thrifting for treasures.